WELCOME TO THE YONI-VERSE
A non-judgmental realm of sensuality, self-love, and empowerment. A sacred space where a woman can have her inner Goddess awakened & worshipped. Within this private universe, you have the opportunity to unlock your feminine power & embrace your divine essence.
Booking a session with Yoni Massage Cape Town ensures that you experience a blissful journey of self-discovery and physical pleasure at the hands of a highly skilled Male Touch Therapist with years of experience and a deep understanding of the female body.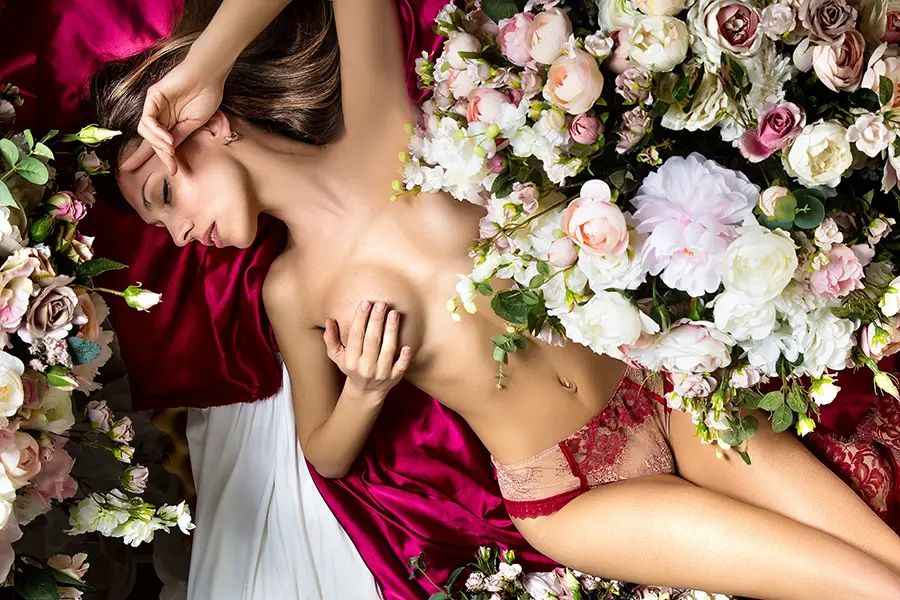 The yoni is a Sanskrit term that is commonly used to refer to the female genitals, including the vulva, vagina, clitoris, uterus, and ovaries.
The word "yoni" means "abode", "source", or "womb", and is derived from the Sanskrit root "yuj", which means "to join" or "unite."
In Hinduism, the yoni is often associated with the goddess Shakti and represents the power of feminine sexuality, sensuality, and fertility. It is considered a sacred symbol of divine creative energy, as well as the source of all life and creation.
What is Yoni Massage and How Does it Work?
Yoni massage is a specialized, gentle and respectful massage of the yoni and surrounding areas, which can help women release physical and emotional tension, increase sensitivity and pleasure, and awaken female sexual energy. The philosophy behind yoni massage is rooted in ancient Indian Tantra practices, which view sexuality as a sacred and spiritual experience.
Therefore, in the context of yoni massage, the yoni is honored and respected as a sacred part of a woman's body. Through gentle touch and exploration, women can learn to connect with their yoni in a new and empowering way, releasing any shame or negative associations they may have with their sexuality.
Who Can Benefit From Yoni Massage in Cape Town?
Any woman, living in or visiting Cape Town, who is looking to explore her sensuality and experience the ultimate in relaxation and pleasure can benefit from this specialized yoni massage service.
Coming to Cape Town on business or holiday? This is a perfect opportunity to treat your body to something truly special. It's our secret 😉
Male Massage Therapist for Women in Cape Town
An expert male therapist whose primary focus is on your pleasure & comfort.
Using his vast range of massage skills, he will not only stimulate your erogenous zones and help you achieve a heightened state of pleasure and relaxation but also make you feel like the Goddess you truly are. Come as you are, this is a judgement free zone!
Yoni Massage at my Hotel or Home, how does this work?
Your therapist will travel out to your Hotel or Home and will bring all of the necessary equipment and supplies to provide you with a professional massage experience in the convenience, safety & privacy of your own space.
All that's left for you to do is prepare to have your inner Goddess worshipped.
With my conservative, super-religious upbringing, I never thought I'd ever say this, but yoni massage is a must-do for any woman visiting Cape Town. Just don't blame me if you become addicted! This guy is beyond amazing at what he does
I never knew I could have a full-body orgasm until Tristin's yoni massage. My yoni is now convinced that it's the main event, and honestly, I'm not arguing.
Business trips to Cape Town have just gotten a whole lot more interesting now that I have discovered the most amazing therapist ever! Tristin understands just how to give pleasure to a woman's body in a way that makes you feel sexy and desirable. It was the experience I never knew I need in my life but now that I've had it, I can't imagine my life without it.
Important Points To Be Aware Of Before Proceeding
1) This service is For Women Only! Do NOT contact me if you are a man unless you are intending on making a booking for a woman. If that is the case, text me 1st to get permission to call
2) All sessions are strictly 1-on-1. No spectators will be permitted
3) I will NOT engage in ping pong texts. If you are serious about booking a session, it is compulsory to call me directly to discuss rates & details. You may text or email me in the event of me not being able to take your call.
4) I am happy to assist women of all races, sizes & ages but will NOT tolerate racism. It's a mental sickness I don't want in my space. The intimate nature of these massages require a connection being built on mutual respect, acceptance & free of judgement or discrimination. The energy based connection being created in this moment can be seriously tainted by the toxic nature of racism.